Frequently Asked Questions
Please read our frequently asked questions
Do I need to get an e-visa in order to visit St. Helena?
In general terms, persons carrying passports from particular countries (determined by the passport you will use to enter St. Helena) as listed below do require a visa to travel to St. Helena.  There is no 'visa on arrival' facility at St Helena Airport. 
Please visit our 'DO I NEED A VISA?' page for a quick and easy initial assessment as to whether or not you should apply for a visa prior to travel to St. Helena.  The information on this page is provided as a guide only and will provide an indication as to whether or not you need a visa.  If you are in doubt having followed the steps on this page please contact us using the 'CONTACT US' page, also on this website.  It is your responsibility to ensure you are in possession of a valid visa at point of arrival in St. Helena.
Even if the country which issued your passport is not listed below, you may still require a visa if, for example, you cannot meet the criminal convictions guidance (see FAQ below) to enter St. Helena without applying for a visa in advance. 
The type of passport you are holding is also important.  If you are not carrying a full validity passport which has been legitimately issued to you with at least six months validity remaining at point of entry to St. Helena, you may also need to apply for a visa in advance.  South African Temporary Passports, for example, do not qualify for visa-free travel to St. Helena.  British Emergency Travel Documents and British and St. Helenian Emergency Passports are generally accepted for travel to St. Helena but may not be accepted at all ports on the way to St. Helena.  You should check whether your document is accepted with the relevant authority in the country or countries you will pass through on your way to St. Helena.
Which passport holders require an e-visa to travel to St. Helena?
The holders of the following passports require an e-visa, applied for in advance, to travel to St. Helena:
Afghanistan, Albania, Algeria, Angola, Armenia, Azerbaijan, Bahrain, Bangladesh, Belarus, Benin, Bhutan, Bolivia, Bosnia Herzegovina, Burkina Faso, Burma, Burundi, Cambodia, Cameroon, Cape Verde, Central African Republic, Chad, People's Republic Of China, Colombia, Comoros, Congo, Cuba, Democratic Republic Of The Congo, Djibouti, Dominican Republic, Ecuador, Egypt, Equatorial Guinea, Eritrea, Ethiopia, Fiji, Gabon, Gambia, Georgia, Ghana, Guinea, Guinea Bissau, Guyana, Haiti, India, Indonesia, Iran, Iraq, Ivory Coast, Jamaica, Jordan, Kazakhstan, Kenya, Korea (North), Kosovo, Kuwait, Kyrgyzstan, Laos, Lebanon, Lesotho, Liberia, Libya, Macedonia, Madagascar, Malawi, Mali, Mauritania, Moldova, Mongolia, Montenegro, Morocco, Mozambique, Nepal, Niger, Nigeria, Oman, Pakistan, Palestinian Territory, Peru, Philippines, Qatar, Russia, Rwanda, Sao Tome E Principe, Saudi Arabia, Senegal, Serbia, Sierra Leone, Somalia, South Sudan, Sri Lanka, Sudan, Surinam, Swaziland, Syria, Taiwan, Tajikistan, Tanzania, Thailand, Togo, Tunisia, Turkey, Turkmenistan, Uganda, Ukraine, United Arab Emirates, Uzbekistan, Venezuela, Vietnam, Yemen, Zambia, Zimbabwe.
The territories formerly comprising the socialist federal republic of Yugoslavia
Persons who hold passports or travel documents issued by the former soviet union or by the former socialist federal republic of Yugoslavia.
Stateless persons.
Persons travelling on any document other than a national passport regardless of whether the document is issued by or evidences nationality of a state not listed in paragraph (1), except where that document has been issued by uk, st helena or ascension island.
Unless otherwise exempted as a
Holder of a certificate of St. Helenian status or a person who can otherwise evidence their St. Helenian status; or
Holder of a long term entry permit; or
Holder of spouse, life partner or other dependant relative exemption certificate; or
Holder of a government service exemption certificate or letter issued by the immigration control board or St. Helena government confirming direct employment with St. Helena government.
How do I get to St. Helena?
St. Helena is currently accessible by sea and air via the port in Jamestown or St. Helena airport. 
If you are interested in visiting St. Helena, please visit St. Helena Tourism's getting here page.
Terms of Application
By submitting your application you agree and understand to the following;
I must inform the St Helena Immigration Service if there is a material change to my circumstances, or any new information to my application becomes available.
The St. Helena Immigration Service (or a trusted third party) may make reasonable checks to confirm the accuracy and authenticity of evidence I have provided and documents I have submitted with this application.
The St Helena Immigration Service (or a trusted third party) may also make reasonable checks on any person in connection with my application to verify statements contained in the application.
Information provided by me will be handled carefully by the St Helena Immigration Service and data I provide will not be shared with any other person or authority without good reason.
The St Helena Immigration Service is the data controller in relation to the information provided by me in this application form.
The information I provide, including biometric data and our decision, will be treated in confidence, but it may be disclosed to other government departments, agencies, local authorities, foreign governments or law enforcement agencies, airlines, shipping companies and other bodies, to enable the St Helena Immigration Service or those bodies to perform their functions.
Providing biometric information as part of an application is confirmation of consent to having biometric information checked by the St Helena Immigration Service to verify identity.
The information provided by me may be also used for staff training purposes.
My application will involve the transfer of my application and supporting documents to and from different countries.
The fee payable is for an application processing and decision-making service, not the guaranteed delivery of a visa, therefore I will not be entitled to a refund should my application for entry to St. Helena be refused or granted for a shorter period than I applied for.
My visa application fee will not be refunded for any reason.
The information provided by me, or information made available to the St Helena Immigration Service (or a trusted third party) during the processing of my application, may be shared with my sponsor(s), any person(s) acting on their behalf or any applicant linked to my application (for example to my spouse/partner) and persons or bodies names in the application or supporting documentation for the purpose of considering my application. I am aware that if there is any information I do not want the St Helena Immigration Service to disclose I will tell you by submitting a letter or email either as a supporting document or through the 'contact us' page. If such requests prevent the St. Helena Immigration Service from making relevant inquires which may affect the decision, my application may be refused.
My application is likely to be refused and I commit a criminal offence, if I use a false document, lie or withhold relevant information. I may also be banned if I have breached immigration laws in St Helena, the UK or any other country. Should I use a false document, lie or withhold relevant information my details may be passed to relevant law enforcement agencies.
I may be required to provide a record of my fingerprints and a photograph of my face ("biometric data") as part of my application. If I refuse to do so, my application may be treated as invalid and, if so will not be considered further.
I understand that providing biometric information as part of an application is confirmation of consent to having biometric information checked at the St Helena border to verify identity.
If I fail to pay any debts incurred by me this could adversely affect future applications for visas or to entry to St. Helena.
I will not have recourse to public funds during my stay in St Helena.
I am not entitled to receive medical and dental treatment free of charge in St Helena, and therefore may be billed for any treatment undertaken.
I am not entitled to receive state-funded education whilst in St Helena.
My details may, in certain circumstances, be passed to fraud prevention agencies to prevent and detect fraud and money laundering. I also understand that such agencies may provide St Helena Immigration Service with information about me.
It is an offence under the Immigration Ordinance to make a statement which I know to be false, or not believe to be true, in order to obtain a St. Helenian visa.
How will my criminal record affect my e-visa application?
The St. Helena Immigration Service has a duty to protect St. Helena, its residents and those living in or travelling to the island temporarily.  Historic criminality will generally necessitate an e-visa application regardless of the country of issue of your passport (unless you are a St. Helenian status holder).  If you are in any doubt as to whether or not an e-visa is required please use the 'CONTACT US' link on this website.  Historic criminality will not necessarily lead to an unsuccessful e-visa application.
All prior criminality including spent convictions, with the exception of minor road traffic offences should be declared at point of application.  'Minor road traffic offences' do not include alcohol or drug related driving offences which should be declared.  All declared criminality should be evidenced with a police certificate or equivalent document from relevant country.  St. Helena accepts the UK Association of Chief Police Officers Criminal Records Office (ACRO) Police Certificate for those who have resided in the UK.  Otherwise, St. Helena follows UK Home Office Police Certificate advice which can be found here.
In general terms, an offence which is 'spent' under the UK rehabilitation of offenders act is unlikely to prevent you from entering St. Helena for a short term visit, there are some exceptions, however.
The following, non-exhaustive table provides general guidance on the actions the Immigration Service will take when you declare criminality on your e-visa application.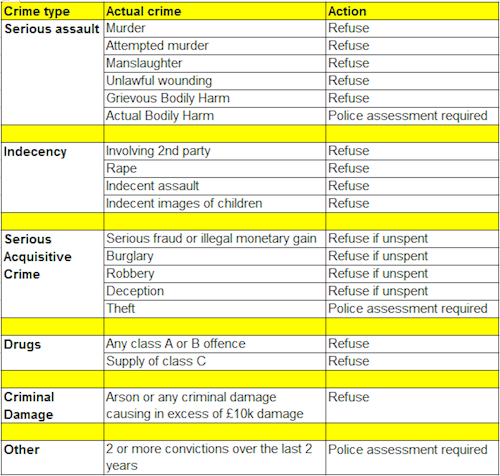 In all other circumstances, declared criminality will result in police assessment of your application prior to the grant or refusal of your e-visa application.
Medical services on St Helena
Medical facilities and specialisms are limited in St. Helena. All persons must be in possession of medical and or travel insurance which is adequate to cover the period of stay in St. Helena and to provide for all medical treatment on island and medical evacuation in case of emergency.
Medical insurance documentation may be checked on arrival and should explicitly state that it is sufficient to cover evacuation in the event it is needed. Medical evacuation from St. Helena can cost in excess of £100,000.
What supporting documents should i submit with my application?
SECTION 1: Documents you must provide:
A scanned photograph (see photo guidance FAQ)
SECTION 2: Documents you must provide to support your application
 2A: If transiting landside for up to 48 hours:
Your onward travel itinerary
Information regarding your place of stay in St. Helena
Proof of adequate medical or travel insurance, including cover for medical evacuation
 2B: If remaining on St. Helena for 48 hours or more:
Your onward travel itinerary
Information regarding your place of stay in St. Helena
Proof of adequate medical or travel insurance, including cover for medical evacuation
Previous travel documents/passports, which show previous travel
Financial documents showing that you have sufficient funds available. These must clearly show that you have access to the funds, such as:

bank statements
building society book
proof of earnings such as a letter from employer confirming employment details (start date of employment, salary, role, company contact details)
where a third party (who is either in St. Helena or who will be legally in the St. Helena at the time of your visit) is providing financial support to you e.g. a business, a friend or a relative, documents to show they have sufficient resources to support you in addition to themselves and any dependant family should be provided 

Confirmation of legal residence, if you are not a national of the country in which you are applying or your right to reside there is not included in your passport.
Details of employment or studies where you are either employed or in full-time studies. This could include:

a letter from your employer on company headed paper, detailing your role, salary and length of employment
a letter from your education provider, on headed paper, confirming your enrolment and leave of absence 

If self employed: business registration documents confirming the business owner's name and the date the business started trading.
Business activities – where you are coming to St. Helena in order to undertake activities relating to your occupation/employment outside of St. Helena you should submit information regarding what you will be doing in St. Helena, including any letters from inviting organisations. For example:

any business activities, e.g. letter from your employer outlining the reason for your visit, who you will be meeting and details of any payment/expenses
for performances and entertainment visitors, whether you work in this area as a professional or amateur , and what and where you will be performing
 2C: Under 18s – we strongly recommend you submit the following information otherwise it may delay consideration of your application.
a Birth Certificate or legal document (such as adoption papers) showing the relationship between you and your parent or guardian
If travelling unaccompanied or with someone other than your parent(s) you should provide:

a signed letter from your parent(s) confirming details of anyone accompanying you, and details of care and accommodation arranged in St. Helena
a copy of your parent(s) or legal guardian's biographical page of their passport, which includes their signature and passport number if your parent(s) do not have a passport then you must provide another official document which bears their signature
SECTION 3: Documents you should not send unless specifically requested
if you are applying as a family/group you do not need to provide multiple copies of the same documents
bank statements or letters issued more than one year before the date of application
driving licence
photographs (other than the scanned photograph required)
notarial certificates
business cards
photocopies of bank cards
credit card statements
certificates relating to leisure activities
evidence of car ownership
sponsor's utility bills
educational certificates (unless specifically required in 2B)
SECTION 4: Translations
If you submit a document that is not in English, it must be accompanied by a full translation that can be independently verified. Each translated document must contain:
Confirmation from the translator that it is an accurate translation of the original document
Date of the translation
Translator's full name and signature
Translator's contact details
Do i need a e-visa if i am in transit?
Passengers transiting airside at St. Helena airport (generally those planning to arrive and depart on the same day and usually on the same aircraft) do not require an e-visa.
Passengers transiting landside and passing through border control either at the airport or the seaport if on the 'visa required' list as per the earlier FAQ will require an e-visa unless specifically exempted.  
Is there any guidance for the photo on my visa?
Yes, there are specific requirements for the photo that you scan and upload to the e-visa application.
The size of the photos
Your photos should ideally be:
measure 45 millimetres (mm) high by 35mm wide
not be a cut down version of a larger picture
The quality of the photos
Your photos should be:
printed to a professional standard
taken within the last month
in colour on plain white paper with no border
taken against a plain cream or light grey background
clear and in focus
unmarked and with no tears
unaltered by computer software
What your photo must show
Your photos must:
be a close-up of your full head and upper shoulders
contain no other objects or people
be in clear contrast to the background
In your photo, you must:
be facing forward and looking straight at the camera
have a neutral expression and your mouth closed
have your eyes open, visible and free from reflection or glare from glasses
not have hair in front of your eyes
not have a head covering (unless it's for religious or medical reasons)
not have anything covering your face
not have any 'red eye'
not have any shadows on your face or behind you
You can't wear sunglasses or tinted glasses. You can wear reading glasses but your eyes must show fully through clear lenses without glare or reflections.
The size of the image
The image of you - from the crown of your head to your chin - should be between 29mm and 34mm high.
Photos of babies and children
Children must be on their own in the picture. Babies must not be holding toys or using dummies.
Children under 6 don't have to be looking directly at the camera or have a neutral expression.
Children under one don't have to have their eyes open. If their head is supported by a hand, the hand mustn't be visible in the photo.
Do's and don't's
What contagious diseases do I need to declare in my e-visa application?
The following diseases should be declared in your application if you are currently suffering one or more of them, or if you have suffered from one or more of them within the 12 months preceding your expected arrival date in St. Helena.
Acute encephalitis
Acute infectious hepatitis
Acute meningitis
Acute poliomyelitis
Anthrax
Botulism
Brucellosis
Cholera
Diphtheria
Enteric fever (typhoid or paratyphoid fever)
Food poisoning
Haemolytic uraemic syndrome (HUS)
Infectious bloody diarrhoea
Invasive group A streptococcal disease
Legionnaires' disease
Leprosy
Malaria
Measles
Meningococcal septicaemia
Mumps
Plague
Rabies
Rubella
Severe Acute Respiratory Syndrome (SARS)
Scarlet fever
Smallpox
Tetanus
Tuberculosis
Typhus
Viral haemorrhagic fever (VHF)
Whooping cough
Yellow fever
How much does an e-visa cost?
The St. Helena e-visa costs £50 per application.  The fee is non-refundable.
How long will it take to receive my e-visa?
We aim to determine 90% of e-visa applications within 21 days.  Complicated cases can take longer but we aim to determine all applications within six weeks of application.  
Incomplete applications are likely to result in slower determinations.  Please read the guidance around supporting documents in this FAQs section to help ensure you provide a complete application.